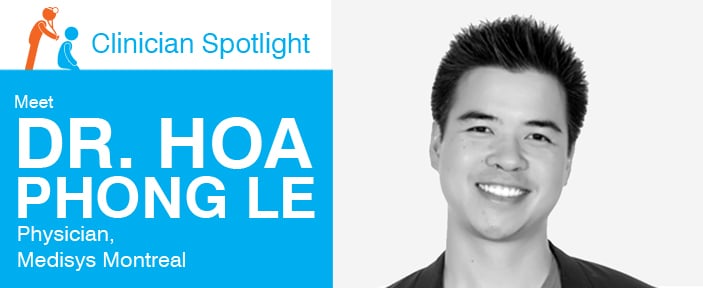 Why did you decide to become a doctor?
I actually started my professional career as a lawyer back in 2006. It was through that experience that it quickly became clear how much I enjoyed the world of business, healthcare and education. From there the decision was easy!
Tell us about what you do at Medisys.
My days are pretty busy and varied here at Medisys as I wear a few different hats in my role. In my time providing preventive care to corporate executives, I meet patients to make a full assessment of their health, going from cardiovascular risk assessment, cancer screening to mental and physical health issues. I love this part of my work because we can work with patients year after year to improve their health in a real way.
When practicing Occupational Medicine and Immigration, I examine candidates for employment to various industries ranging from air, sea and land transportation to food producers and manufacturers to chemical and pharmaceutical workers. Each industry and type of work has its own challenges and unique requirements and this is what makes Occupational Health so interesting! By combining my experience as an Occupational Health physician with my legal background, I often work with clients to provide strategic advice on key business issues such as disability management or in update Human Resources Policies following the legalization of cannabis.
In your opinion, how might the legalization of cannabis impact the health and safety of Canadian workplaces?
Great question, as this is a highly complex topic that many employers are struggling to address. To answer appropriately, it's important to differentiate between cannabis for medical purposes and cannabis recreational cannabis. Let's try to illustrate with a few examples.
Let's say that you work as a seafarer on a big cargo ship. The reality is that you will be on the ship for prolonged periods of time, you might face harsh weather making work on deck and below extremely dangerous and you might have to be ready at any time to be responsible for lookout duties. In such a situation, if you have a medical condition such as Post Traumatic Stress Syndrome or a form of Pain Syndrome for which you required prescribed cannabis, for security reasons it is totally incompatible with the duties that you have to perform. When it comes to recreational use of cannabis, it's a bit less clear. Most people with prescribed marijuana will consume everyday which makes it incompatible with high security work environments. For recreational marijuana, if the employee is an occasional consumer, it will depend on the position. If we look for example for a construction worker building a bridge, the restriction should of course be more severe so that he should not have any residual effects of recreational substance use during off time. This becomes very complicated when considering recreational cannabis. Put simply, THC stays accumulated in fatty tissues of the body such as the brain for a longer period of time than other recreational drugs.
Now that cannabis is legal in Canada, will we see a spike in usage?
The short answer, no one is able to predict the future, but it's unlikely that we will see a significant spike in usage. Most of your employees that did not smoke before legalization will not start smoking now because it's legal. That being said, if you are in a business or environment where it's critical to employee safety that mental and physical abilities are not impaired, make sure to review internal policies and in certain cases think about how and when testing can be enforced.
What can employers do to mitigate the risks associated with cannabis in the workplace?
If you're confused about how the legalization of recreational cannabis in Canada might impact your organization, rest assured you're not alone! Many Canadian employers who've implemented updated drug and alcohol policies differ hugely in their approach, proving further the lack of consensus on how much time after consumption is safe. First and foremost, think about how the use of cannabis may affects employees in different job roles throughout the organization. Then if you still don't have a drug and alcohol policy in place, get one in place as soon as possible. Most people will have minimal residual cognition and coordination effects after 24 hours of smoking (or 24-48h after eating) cannabis products. However, some studies have suggested residual cerebral impacts may last up to 28 days. The research community is working hard to learn more in this new legislative landscape. In the meantime, regulations around use should depend fully on the nature of the work. If you're feeling lost and in need of additional support, consult a specialist.
To contact Dr. Le with questions or comments related to this interview, contact us at marketing@horizonohs.com.