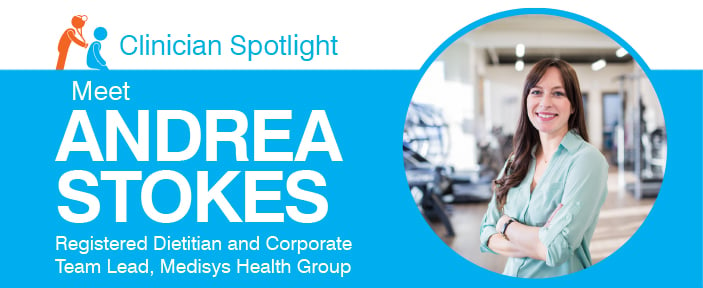 QUESTION 1: TELL US ABOUT YOUR WORK AT DEFINITIONS HEALTH AND WELLNESS, A DIVISION OF MEDISYS HEALTH GROUP.

I work as a registered dietitian. My role is to support a broad range of clients — individuals, executive health clients and corporate clients — as they work to improve their overall health and wellness through diet and other lifestyle changes.
That said, my largest client base is definitely corporate. I visit offices and other worksites to offer nutrition counselling, wellness presentations, menu audits and recipe demos — basically anything that helps employees make positive changes to what they eat and how they live! I also visit remote worksites, including offshore installations, to offer onsite nutrition services.
I'm also the corporate team lead for the St. John's clinic. I develop, organize and deliver overall health and wellness programming for our corporate clients here in Newfoundland, as well as throughout the country.
QUESTION 2: YOU'RE ONE OF THE FEW REGISTERED DIETICIANS TO WORK OFFSHORE. TELL US ABOUT THIS EXPERIENCE.
Working in the offshore environment is one of the most interesting and rewarding aspects of my job. I support offshore workers by providing individual nutrition guidance and group presentations on various nutrition and wellness topics. I also meet with food service staff to identify feasible solutions to improve the nutritional quality of their food offerings.
Workers in remote locations face very unique nutrition and wellness challenges. Eating well and exercising regularly are notoriously difficult to achieve and maintain onshore; this difficulty is often amplified in the offshore setting. To truly understand how to tailor effective recommendations for these clients' needs, it's essential that you experience this environment for yourself.
QUESTION 3: WHAT PROMPTED YOU TO WORK IN HEALTH?
Growing up, my role model was my grandmother. She was active and social, volunteered regularly and ate a nutritious and enjoyable diet. She believed that how you treat your body impacts your health and wellbeing. At 91 years of age, she's still my inspiration!
I've always been fascinated with the idea of using food as medicine, particularly in preventing disease. My philosophy is not to strive for perfection, but rather for small but valuable improvements. This is especially true of diet and nutrition, where making healthy changes can be difficult. Understanding why people struggle with seemingly basic recommendations is an interesting and vital part of my work.
QUESTION 4: HOW DID YOU ACHIEVE YOUR CURRENT POSITION?
After completing university and my internship, I worked in private practice for a couple of years. In 2014, I joined the Definitions/Medisys Health Group team as the sole dietitian at our Newfoundland and Labrador clinic. Having spent so much time in the corporate setting, I took on the additional role of Corporate Team Lead. This allows me to develop unique wellness programs to meet our corporate and offshore clients' needs, along with services such as ergonomics, nutrition and fitness counselling, wellness seminars, fitness and personal training, job safety analysis, injury prevention programs, health and wellness challenges and more.

QUESTION 5: WHAT ARE YOUR CLIENTS' MAIN CHALLENGES?
My clients come from a huge variety of different ages and backgrounds, so they face an equally wide range of nutrition and health concerns. The most common include weight management, chronic disease management (especially diabetes and heart disease), digestive issues and meal planning.
Their biggest challenge is often a lack of time for healthy eating. Many clients just don't have time to cook from scratch and meal prep for the week, so I help them develop strategies to fit healthy eating into their busy lifestyles. Healthy eating doesn't need to be time-consuming. They just need to figure out how to make it work for them.
QUESTION 6: HOW DO YOU SEE YOUR INDUSTRY EVOLVING IN THE FUTURE?
I see a continuation of consumers' growing awareness and desire for access to healthy foods and products, and their concern over the nutritional quality of the food we're putting into our bodies. The average person is becoming more knowledgeable of what it means to be healthy; in turn, this is reflected in food trends and in how the food industry is responding. For example, there's a push towards more whole, organic, minimally processed foods, as well as more plant-based proteins.
Moreover, as nutrition science continues to progress, our recommendations will become more specific and individualized. The concept of nutrigenomics — how our genetic makeup influences and interacts with nutrition — will become a useful tool in disease prevention and management, and will enable people to optimize health throughout their lifespan by making more informed food choices.
In fact, Medisys already offers genetic testing known as Nutrigenomix®. This test evaluates multiple nutrition and health factors and risks, including nutrient metabolism, cardiometabolic health, food intolerances, eating habits, weight management and physical activity. To learn more about Nutrigenomix®, click here.
ANDREA'S TOP THREE NUTRITION TIPS
Eating healthy doesn't always come easy, and nutritional science can be extremely confusing and even contradictory. Here are three practical, concrete tips to help you on the road to better nutrition.

1. EAT REAL FOODS MORE OFTEN.
By "real" foods, I mean natural foods like fruit, vegetables, fish, meat and poultry, nuts and seeds, beans, and minimally-processed grains, which have been part of the human diet for most of our existence. Real foods should make up at least 80% of your overall diet; this still leaves room for treats and convenience foods when you really need or want them.
2. FOCUS ON MAKING SMALL CHANGES OVER TIME.
A drastic diet overhaul or long list of changes can be overwhelming and discouraging. Pick one or two small changes from your list, commit to them until they become habits, then move on to other small changes. Over time, you'll made significant progress – and besides, one small change that lasts a lifetime is more beneficial than a complete diet change that only lasts two weeks.
3. SET GOALS THAT WORK FOR YOU.
People's goals, concerns, challenges, and life circumstances are constantly changing, so it stands to reason that two people will rarely respond to nutrition and health changes in the exact same way. Be realistic, and understand that some lifestyle changes or goals might be too difficult – at least for now. If you're struggling, simply set those changes aside and try something else. You can always revisit these goals later, when they're more feasible.
In these situations, meeting with a dietitian can truly benefit you. We take the time to get to know the intricacies of your life and then help you set goals that are both beneficial and achievable. We aim for "just a little bit better" and then build on this base over time.